[one_half]Ho varie amiche che sono in attesa: qualcuna è giusto all'inizio, altre sono invece quasi al termine…
Guardo pancioni e pancini e penso che durante la mia gravidanza non ho disdegnato affatto l'abbigliamento maternity, che ho acquistato principalmente in negozi locali, oltre che da Benetton e Prenatal. Dato che Sissi è nata a Febbraio, negli ultimi mesi ho avuto bisogno di giacconi, piumino, calzamaglie… e non è stato semplice trovarli.
Poi Sissi è nata, poi è nato anche il blog… ed ho scoperto tanti marchi molto carini di abbigliamento premaman, per andare in ufficio fino all'ultimo giorno o semplicemente per godersi una passeggiata e sentirsi carine e comode. Complice prima di tutto Playtime Paris, la fiera parigina dedicata al mondo del bambino e anche – finalmente – al mondo della quasi-mamma, voglio compilare una lista di indirizzi e marchi che potranno essere utili alle mie amiche (e non) per far stare comode le loro pancine. O pancione.
Al dubbio: abbigliamento premaman si o no? Io vi rispondo semplicemente con una foto… poi fate voi…[/one_half] [one_half_last]I have several friends who are pregnant: some are just at the beginning, others are almost over …
I look bellies and tummies and I think that during my pregnancy I did not disdain at the maternity clothing, that I purchased mainly in local stores, as well as from Benetton and Prenatal. Since Sissi was born in February, durin the last months of pregnancy I needed jackets, down jacket, tights … and it was not easy to find them.
Then Sissi was born, then the blog was born… and I found many brands with very cute maternity clothing, to go to the office until the last day or just to enjoy a walk and feel nice and comfortable. Accomplice first Playtime Paris, the Parisian fair dedicated to the world of children and also – finally – to the world of almost-mother, I want to compile a list of addresses and brands that may be useful to my friends (and not) to be comfortable with their bumps.
Doubt: maternity clothes or not? I answer simply with a picture… then you choose…[/one_half_last]

[one_half]Deciso dunque per il SI, perchè con qualcosa cucito con quello "spazio in più" per la pancia, ammettiamolo, siamo più carine e ci sentiamo davvero comode, sorvoliamo al solito tutte le catene di fast-fashion low-cost che già conoscete (H&M, Zara, Asos, ma anche OVS e Esprit hanno delle buone sezioni dedicate al maternity)… ecco la lista, che spero vi sia utile.
Pomkin: marchio francese con tante t-shirt utili per l'allattamento, pratiche e con materiali morbidi e comodi.
Anche il marchio svedese Love Milk, come si desume dal nome del brand, vi aiuterà con abiti belli, materiali sostenibili e discreti all'ora di allattare.
9fashion, il brand polacco di moda donna, ha anche una ricca sezione maternity
Balloon: marchio francese di abbigliamento ed intimo, con materiali morbidi e tantissimi stili. Attualmente con tanti capi in saldo e una buona sezione outlet…[/one_half] [one_half_last]Therefore opted for YES, because with something sewn with the "extra space" for the belly, let's face it, we are nicer and feel really comfortable, I'll overlook fast-fashion and low-cost brands that you already know (H&M , Zara, Asos, but also OVS and Esprit that have good sections on maternity)… so here is the list, which I hope will be useful.
Pomkin: French brand with many t-shirt useful for breastfeeding, with with soft and comfortable materials.
Also the Swedish brand Love Milk, as can be seen from the name of the brand, will help you with beautiful garments, sustainable materials and discrete items when breastfeeding.
9fashion, the Polish brand of women's fashion, also has a rich section maternity
Balloon: French brand with apparel and underwear, with soft materials and many styles. Currently with many items on sales and a good outlet section…[/one_half_last]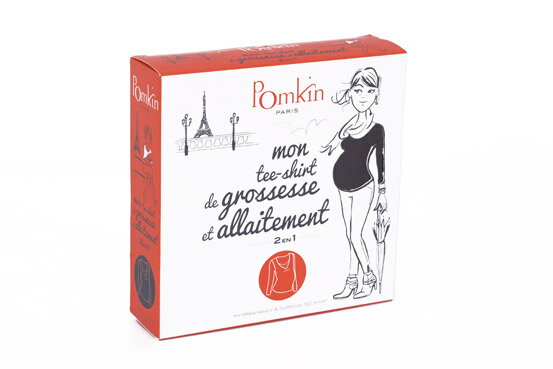 [one_half]Volete Made in Italy anche in gravidanza?
Attesa Maternity
fa per voi: abiti formali, casual, da ufficio, con quel tocco di stile italiano che non guasta mai! Ecco un'idea carina per annunciare il sesso del nascituro:[/one_half] [one_half_last]
Do you want Made in Italy also when pregnant? Attesa Maternity is for you: suits, casual, office, with a touch of Italian style which never hurts! That's a nice idea to announce the sex of your baby:
[/one_half_last] [one_half]Uno dei miei preferiti, il brand belga
Fragile
:[/one_half] [one_half_last]
One of my favourites, belgian brand Fragile:
[/one_half_last]
[one_half]
Nel premaman un must è Isabella Olivier, con linee per il lavoro, per il tempo libero e per le feste. Guardate qui: un abito perfetto per Natale e Capodanno…
[/one_half] [one_half_last]
In maternity Isabella Olivier is a must, with lines for work, for leisure and for parties. Look here: a perfect dress for Christmas and New Year…
[/one_half_last] [one_half]Concludo la mia selezione con un marchio olandese,
Love2Wait
, con le parole della presentazione del brand che esprimono perfettamente il perchè si dovrebbero acquistare abiti maternity:[/one_half] [one_half_last]
I conclude my selection with a Dutch brand, Love2Wait, with the words of the presentation of the brand that perfectly express why you should buy maternity clothes:
[/one_half_last]
Can you imagine, a fashionable denim for pregnant women? Well, Romy found one. And it fits her amazing well. And she also found tops that's fit her perfectly! And now she's enjoying her pregnancy more than ever. In fact, she loves to wait because she realizes that this is one of the most fantastic periods in her life.